Ikebana Class StudioF in Tokyo is a place where you can learn Japanese Flower Arrangement in English.
Come and enjoy our IKEBANA classes offered by the Sogetsu School of Japanese Flower Arrangement. In StudioF, you'll be able to feel the four seasons and learn about Japanese culture in Tokyo. Create your unique art by arranging flowers.
Let's enjoy arranging flowers as a Japanese style hobby. You can do it in your western living room and also make flower table decorations. Why don't you arrange flowers for the New Year, Girl's Day, Halloween and Christmas events? It is a priceless moment to experience Ikebana in a relaxed atmosphere! Beginners are welcome.
Ikebana work Examples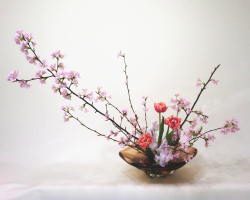 Moribana in Suiban
Sakura Arrangement
Flowers and branches are arranged in a shallow container. Cherry Blossoms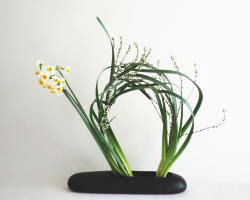 Created Lines
Creative Work
Express yourself with playfulness! Nacissus,Spirea
---
What is Ikebana - Kado -?
Ikebana is also called Kado.
From the historical point of view, it is said that Kado first appeared in the Muromachi Period. Like other traditions such as tea ceremony, Noh and architectural design, it became one of the standards of Japanese beauty. The big difference between Ikebana and western flower arrangement is in the balance of the space.
Ikebana is a Japanese tradition and art which we can be proud of. It is said that Sogetsu is one of the three major schools in Japan.
---
news
新着情報
The Year 2020

News in each month

1.25

Setagaya Class Schedule in February.

1. 5

New pictures for the New Year are uploaded on Mobile Wallpapers.

The Year 2019

Information in each month

12.25

The New Year's schedule is uploaded on each page. Setagaya class (The first class is January 7th) , Azabu class.        

11.25

December Schedule is renewed on the web site Setagaya class (The New Year 2020 Arrangement using Pine Trees) and Azabu class.        

11.16

Information of The 101st Sogetsu Annual Exhibition
2019/11/20 (Wed.) ~ 11/25 (Mon.)
Venue: Spiral Garden/Sogetsu Kaikan Fee: Free
Details are on Sogetsu official web site event page.

10.25

In Setagaya class, 11/17 (Sun.) and 11/30 (Sat.) are available from 13:30 to 18:00.  

9.25

2019/10/ 6 (Sun.) ~ 10/17 (Thu.) Closed for Autumn vacations. Sorry for the inconvenience this may cause.
We have a Sunday class on 10/20 in Setagaya. In October, the schedule of Azabu class is irregular. Click October Azabu.

8.25

In September, the schedule of Azabu class is irregular. Click September Azabu.

7.25

2019 Summer schedule is on here.

6.25

We have a Sunday class on 7/21.

5.25

Notice of Weekend schedule in Setagaya
In June, we have classes on the 5th Saturday (6/29), in addtion to the 1st and 3rd Saturdays.
We have a Sunday class on 6/16. For details, click here.

4.25

Information for Spring Holidays in Japan that is so-called Golden Week from 4/27(Sat.) ~ 5/ 6(Mon.)
We open as usual during Golden Week. 5/19(Sun.) open.
Information is here.

3.25

New photos are added on PHOTO 3/25 and Mobile Wallpapers.