One Day Trial Lesson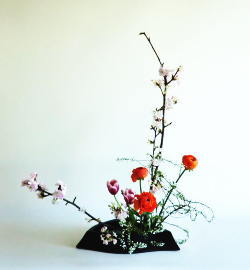 Ikebana Class StudioF offers a 1 day trial lesson for anyone who is thinking of joining our regular class. In addition, this program is available for people who would like to experience Japanese Flower arranging one time only. We welcome beginners and tourists from overseas. Let's try to arrange a basic style of Sogetsu School using seasonal flowers in Japan. Supplies such as scissors, needle point holders and basins are provided in our classroom. Don't hesitate to join. All explanations are given in English, simple Korean and simple Japanese (nihongo).
---
Schedule and Fee
At both the 2 classrooms, 3,300 yen/person
Tuesdays, Thursdays 13:30 ~ 20:00
1st Saturday, 3rd Saturday 13:30 ~ 18:00
Sunday (Once a month) 13:30 ~ 18:00
2nd, 3rd, 4th Wednesdays 15:15 ~ 19:00
*Short -term residents can take a trial lesson. If you would like take more lessons, you can take classes up to 6 times within 2 months. The charge is 3,800 yen/1 lesson (in the Setagaya Class), 4,300 yen/1 lesson (in the Azabu Class). For details, contact us.
---
For Tourists-Ikebana Experience in Japan
Guests from overseas who are interested in Ikebana can take a trial lesson or demonstration workshop.
(1)Trial Lesson Charge: 3,300 yen/person, 1hour and half
(2)Demonstration Workshop Charge: 6,600 yen/person, 2 hours
*(2) includes 3 demonstrations and a trial lesson. For details, contact us.
---